Labour won the battles of the election campaign, but the Conservatives still look almost certain to win the war
Our final call poll for the Times has voting intention figures of CON 42%, LAB 35%, LDEM 10%, UKIP 5%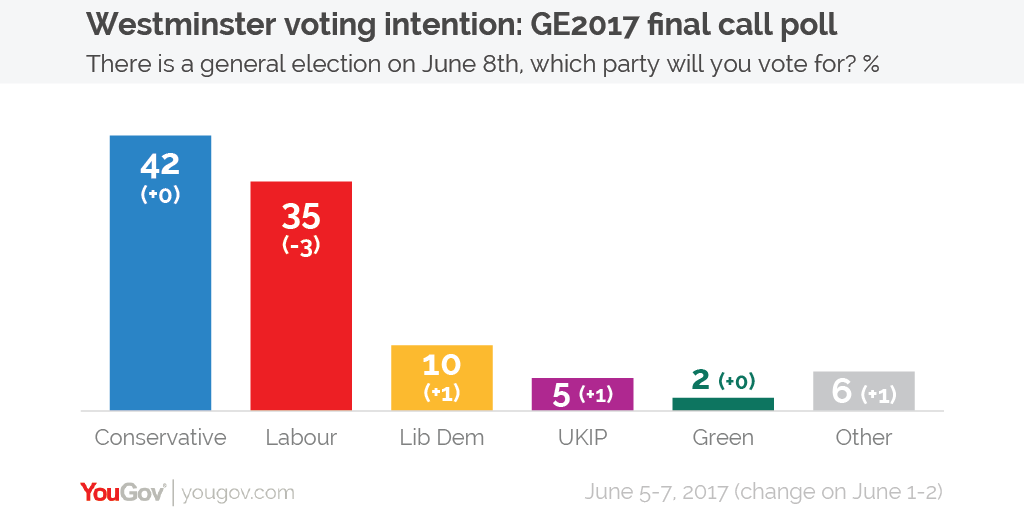 Polls only predict shares of the vote – translating that into seat numbers and government majorities is more difficult – it depends on whether a party is winning or losing votes in the right places. The seven point Conservative lead is the same as at the previous election, but we think it is likely they will nevertheless be returned with an increased majority.
Our Scottish polling for the Times suggest the Tories are outperforming there and will win a good handful of seats from the SNP, and there is also a widespread expectation that they will perform disproportionately well in Labour-held seats that voted for Brexit.
At the start of the election campaign our polls showed a huge Conservative lead. Over the last six weeks that has been gradually whittled away, mostly through increases in Labour support. Whatever the differences between polls (and we are not blind to the fact that there is lots of variation between the figures different pollsters are showing), every company has told the same story of a shrinking Tory margin. But as we go into Election Day, the Conservatives still look set to secure a solid lead in votes and an overall majority. The question is how large.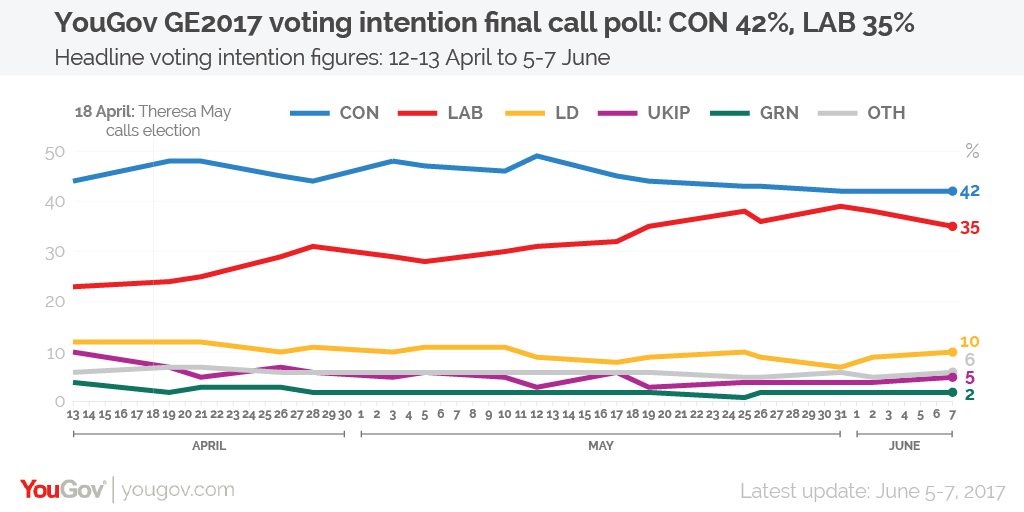 As this is our final call before the election we made two minor changes to our method. The first is that rather than asking people which party they'd vote for, we showed respondents a list of the people actually standing in their constituency and asked which one they would vote for. Hopefully this will help pick up any tactical vote considerations and remove any issue of people saying they would vote UKIP or Green in seats where UKIP or the Greens are not actually standing.
Secondly we have reallocated those respondents who say don't know, but who also say they are very likely to vote (voters who my colleague Adam McDonnell described earlier in the campaign as "true undecided"). We assume uncertain voters who say they "don't know" at this stage won't actually vote, but those who say they are 8+/10 certain to vote we have reallocated back to the party they voted for in 2015.
From the beginning of the campaign and throughout we have characterised this as an experimental election for pollsters. All of us called the election wrong in 2015, and while there is a broad consensus that the cause of the problem was inadequate sampling – the sort of people who did polls were too engaged, too political and too likely to vote – different companies have taken different approaches towards solving the problem.
Given one can hardly run a "test election", tomorrow will be the first time those methods are tried out. The honest truth is that as pollsters we don't yet know whether those methods have worked yet – one can only hope that some do and the industry as a whole can learn from the ones that succeed and move on from those that did not.
For now, YouGov's final call for the 2017 election is for a seven point Conservative lead, leading to an increased Conservative majority in the Commons.
Photo: PA