43% of registered voters would vote for Hillary Clinton, while 39% would vote for Donald Trump. Gary Johnson gets 4% support.
Presumptive Democratic nominee Hillary Clinton continues to maintain her small lead over her GOP counterpart Donald Trump, though she still needs to secure the support of many of those who favored Bernie Sanders, her rival for the Democratic nomination. But Clinton holds an enormous lead over Trump in the public's assessment of the two candidates' qualifications to be President, and there are indications in the latest Economist/YouGov Poll of some softening when it comes to how Sanders voters view her candidacy.
Among all registered voters, Clinton leads Trump by just four points, 43% to 39%, with Libertarian candidate Gary Johnson receiving only 4%. Trump runs ahead of Clinton among men, white voters, those 45 and older, and with independents generally. But Clinton's double-digit leads among women, those under 45, minority voters and moderate voters are among the reasons she is ahead.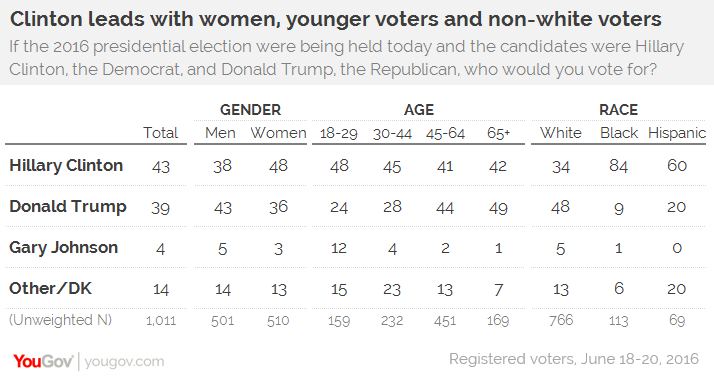 Johnson is not at all well-known. Only four in ten can even express an opinion about him, and that opinion is narrowly negative. He does best with the youngest voters and with independents. 8% of Democratic primary voters who favored Sanders say they will currently vote for him.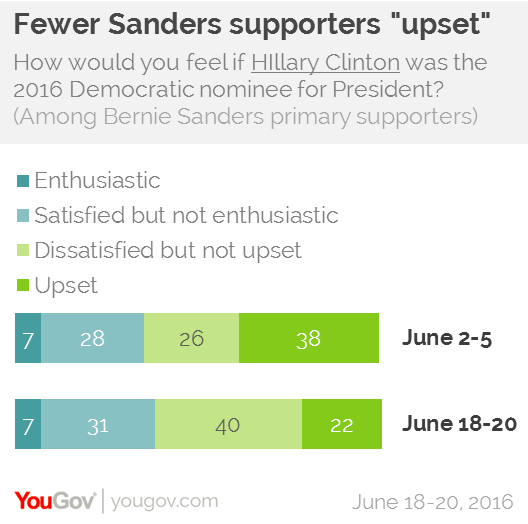 As of this week's poll, just 57% of those Sanders voters say they will support Clinton in November. One in ten now say they will vote for Trump (meanwhile, 16% of GOP primary voters who did not support Trump now say they will vote for Clinton). The Sanders voters have not increased their support for Clinton since the last Economist/YouGov Poll conducted two weeks ago. Nearly half wish he would run as an independent instead of supporting Clinton. But many have changed their emotional response to the former Secretary of State's victory. Two weeks ago, nearly four in ten Sanders supporters said they would be "upset" if Clinton were the nominee. That percentage has been cut nearly in half in this week's poll.
Among Republican voters, there appears to be more distress from those who opposed Trump in the primaries and caucuses. Nearly half (46%) of Republican voters who favored candidates other than Trump continue to say they are "upset" with the prospect of a Trump nomination.
While both Clinton and Trump are viewed negatively by majorities of Americans (with slightly more rating Trump negatively than rating Clinton that way), Clinton's November voters express more positive support for her. Two in three of them say their vote will be for Clinton, and not against Trump. Trump's voters are more closely split on whether they are voting for the New York businessman or voting against Clinton.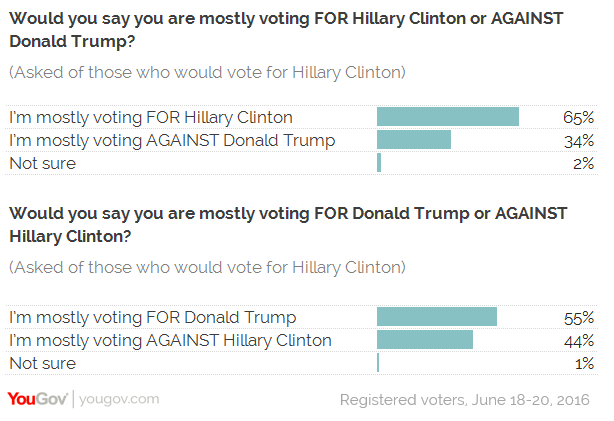 On both sides, negative voting is more likely to be expressed by those who did not support Clinton or Trump in the primaries. About three in four Democratic Sanders voters who will now vote for Clinton and the same percentage of those Republicans who did not favor Trump but who say they will vote for him in November claim they are mainly casting a ballot against the opponent.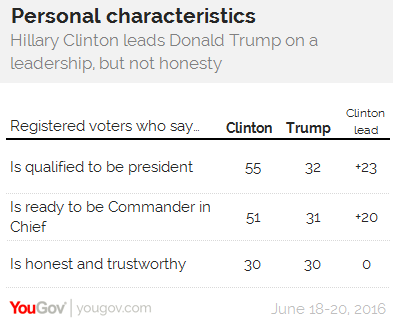 Those who did not commit to the presumptive nominees during the primary season are also less likely to say they have made up their minds. Overall, however, eight in ten registered votes say their minds are made up.
Many continue to question both candidates' honesty and integrity. But Clinton clearly leads when it comes to perceptions about her ability to do the job. A majority of Americans say she is qualified to be President and ready to serve as Commander-in-Chief, while far fewer view Trump that way.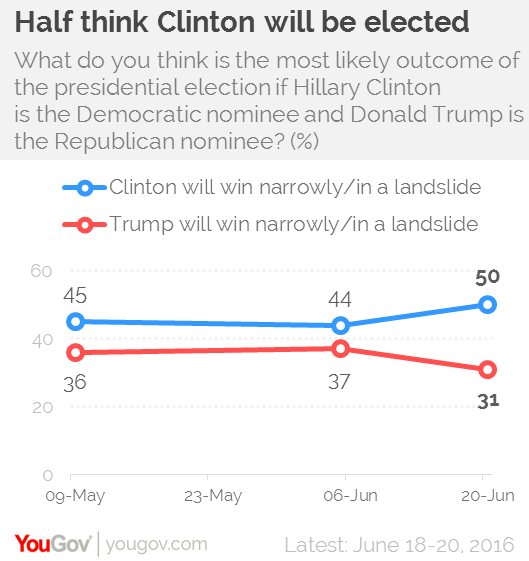 And Clinton is not just ahead of Trump in the polls, but she also is ahead when it comes to the perception of electability. 76% believe she could win the general election, compared with 63% who think this about Trump. And that perception may be increasing.
When asked their belief about the likely outcome in November, half think Clinton will be elected, either narrowly or in a landslide. That percentage has increased six points in the last two weeks. Less than a third now say that Trump will be the victor, and that percentage has declined by the same amount.
---
Economist/YouGov poll archives can be found here.