Excluding don't knows and wouldn't votes Leave has a 20 point lead over Remain in a hypothetical referendum on Britain's membership of the Eurovision Song Contest
In 2015, as Eurovision celebrated its 60th anniversary and enjoyed a boost in viewing figures across Europe to reach nearly 200 million people, the trend in the UK ran the other way. 8.8 million tuned in to watch bearded drag act Conchita Wurst's win in 2014, but in 2015 viewing figures shrunk by 2.2 million. That's still 35.8% of the viewing audience, but bear in mind that 85.6% of Swedish viewers tuned in last year and it's clear Britain is by no means fanatical about the contest.
With only two weeks to go until this year's Eurovision finale new YouGov research across seven Europen countries reveals British people say they'd vote to leave the contest if there was a referendum on the issue. Excluding don't knows (8%) and wouldn't votes (admittedly high at 39%), 60% say they'd vote to leave while 40% say they'd vote to remain.
Even in France, where only 13.4% watched the show in 2014, people are more likely than in Britain to want to remain (46%) in the Eurovision Song Contest.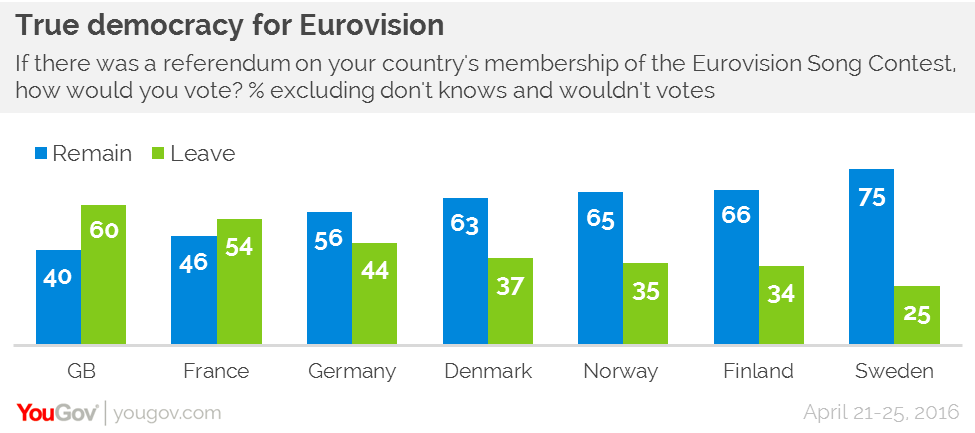 Every other country polled says they'd vote to stay in the competition, and in Sweden as many as 75% of those who'd turn out say they'd choose to stay in.
None of this is to say Brits don't enjoy the spectacle in their own wry way. When asked to describe their motivations for watching the show if they were to watch it, the most popular options in Britain are finding the commentary amusing (27%) and 'so I can make fun of it' (21%). In every other country the most popular option is a serious one, and the ironic motivations rank near the bottom.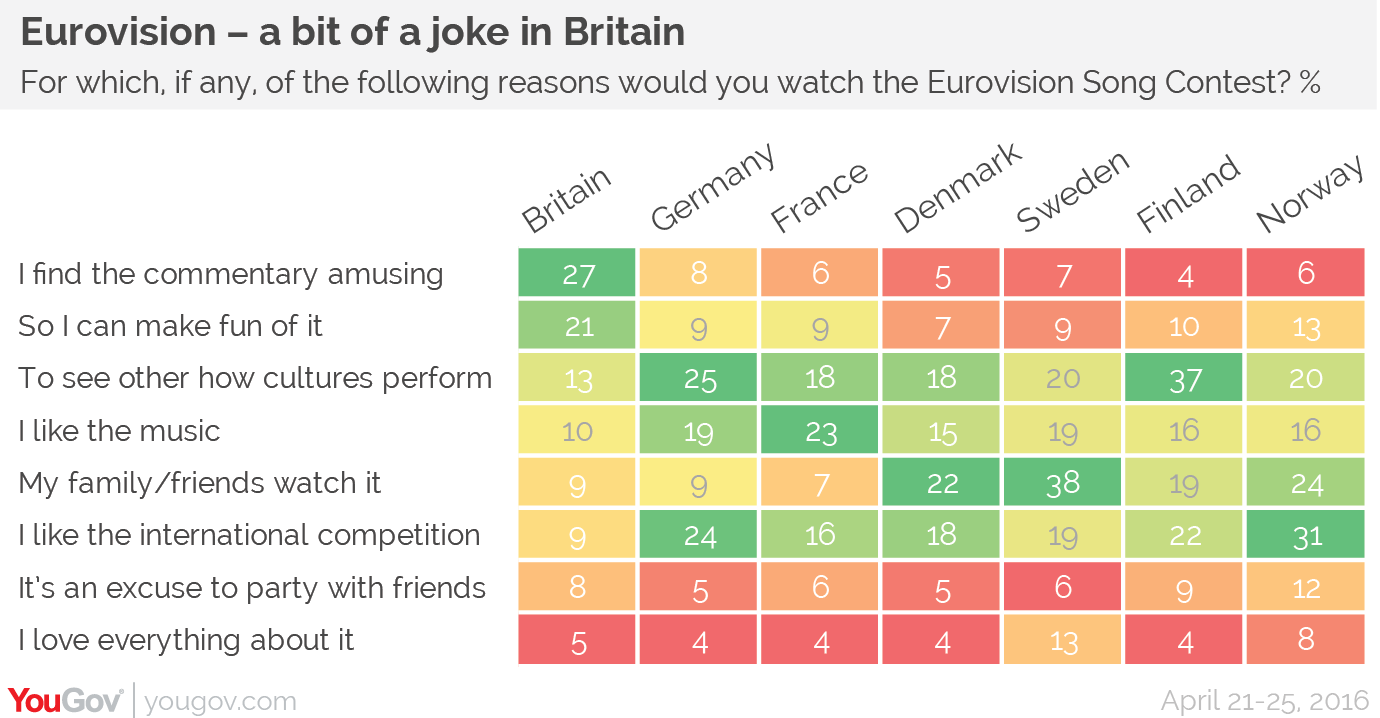 British scepticism is perhaps driven by a sense of foul play. As an island nation we have fewer neighbours to back us and 38% suspect voting is mainly motivated by geo-politics, a greater proportion than in any other country – with France the second most cynical (33%). No more than 18% say geo-politics is the main motivation for voting in any other country. Academic research has confirmed that some countries benefit from voting politically, however they found this rarely influences the winner.
PA image